Antivirus Solutions
 Looking for an Antivirus program you can trust?
Comodo Internet Security
When I first started in business I used to look at Antivirus applications each year and based on the performance results and reviews I would select the best solution for that year. Not any more.
For the last 5 years I have explicitly trusted only one professional solution
Endpoint Security Manager
So you have a server on your network and you want to protect the server and also make sure that the user PC's on the network are being kept up to date. That's why you need Endpoint Security Manager, antivirus for your server and a complete antivirus management system for the Comodo Internet Security clients on the network.
Comodo Endpoint Security Manager
Antispam Gateway
Is spam clogging up your inbox?
Home user or business user? It doesn't really matter, this solution will work for you and if there are less than 10 users on one domain then you can have this solution absolutely free!
Another solution provider we endorse is Kaspersky – Until December 31st 2014 you can get 30% off the retail cost by clicking the picture below!
Ransom Ware – Crypto Prevention
One of the rather nasty pieces of code out in the wild at present, infects your computer and starts encrypting your data, documents and pictures. After a set period of time (a few days usually) a pop-up appears on your system with a clock counting down and a warning that unless you pay through the link provided then your data will become inaccessible. Known as Ransom Ware it is a step on from Scare Ware. With Scare Ware the threat was minor or not at all real, but with Ransom Ware the threat is very real.
If you run the clock down then not only can you not access your data but the link to purchase the decryption key and software is no longer available. Your data can not be recovered at all (even with thousands of computers working as distributed processing systems working on a way of cracking the code).
So what is the solution?
It is actually simpler than you think – Don't get infected!
That sounds rather obvious and also rather blasé but with the software available from the graphic link below you can protect your system from this sort of threat.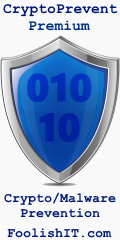 Still here? Why?!?
Oh I know, you are looking for information about how viruses spread yes? Well although not technically accurate you could try a little light relief and pass a few minutes playing Infection wars!